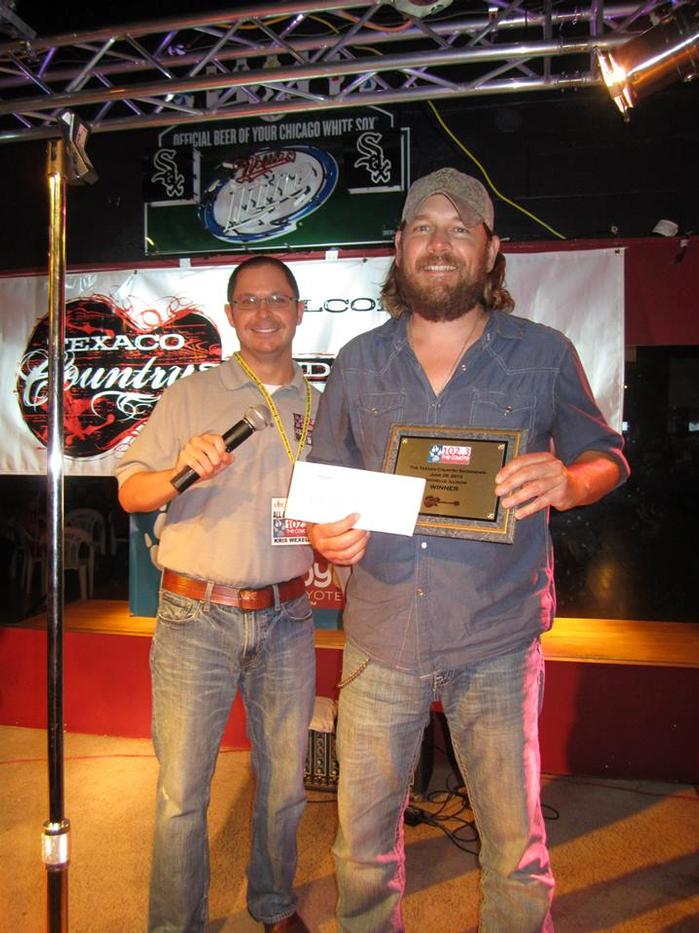 Thank you to the hundreds of people who came out to see the Texaco Country Showdown in Rochelle Saturday afternoon and to cheer all the bands and contestants on. Congrats to the winner Craig Gerdes and to all the performing acts! A thank you to our judges Cory Jones Director of Choral activies at RTHS, Nashville recording artist Brian Lavender and 2012 Showdown regional finalist Missy Vail. Also to our sponsors Coors Light, Prescott Brothers Ford, Rock N Country Sports Pub & Grill & The Rochelle Chamber.
The winner now moves on to the state final at Riverside Casino in Iowa, then to Branson and onto Nashville for a chance to win $100,000. The 13 contestants include The Stroker Red Band, Jamie Cambell & The Redneck Romeo's Band, Katy Kingren, Richard Dean Johnson, Mick Mallette, Sherry Warning, Lindsey Stouffer, Bryan Jackson, Jamie Pontnack, Craig Gerdes, Olivia Dvorak, Wyatt Heyvaert and Bulldog Dave Bee.
(Photos: Kris Wexell awards the winner Craig Gerdes. & Rock N Country in Rochelle a full house for the showdown) For alot more photos go to 102.3 The Coyote Facebook Page.